Between working full-time, playing mom, wife, sister, auntie, daughter and friend, blogging and pinterest, I've been slacking on the household chores. I'm determined to get caught up this weekend!
Friday
Work
At least one load of laundry
Clean
Carve pumpkins
Saturday
More cleaning
Store to get pinterest craft materials
Baby shower
Boo Bash in downtown Milford
Pinterest project
Sunday
Meal plan/grocery shop
Lake Sherwood Halloween Gathering
Dinner at mom and dad's
File bills/paperwork
And last but not least, I'm going to attempt to participate in Followers Fest: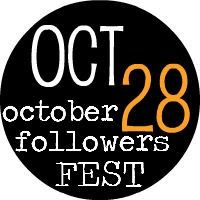 No weekend is complete without a little fun, so let's just hope the fun doesn't get in the way of the things that need to get done!